Once upon a time, there lived a man named Willy Wonka. He built a biiig candy factory, but he ran into a problem. Namely, the other mean candy makers kept trying to steal his candy recipes. Now, sometimes Mr. Wonka looked like this:
like this:
and like this: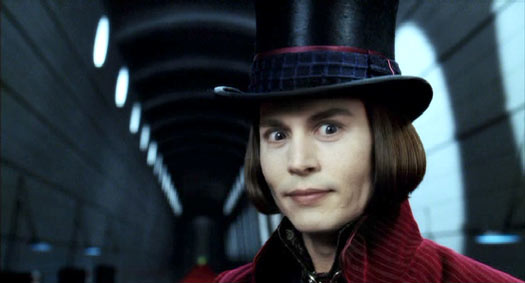 But no matter what Wonka looked like, there was always one constant. And I'm sure you all know what it is, right? Top hats! Okay, two constants. His business model was always based on his intellectual property decisions. When other candy makers started stealing Wonka's recipes, why didn't he take it to the courts? Why didn't he sue them instead of investing in oompa loompas to prevent industrial espionage? Because he couldn't.
When a person invents something, they have two options as to how to protect it. The first is to get a patent. You get a lawyer or a patent agent, fill out some paperwork, and send it in to the government. If the government decides to grant your patent, yay! For most types of patents, you get twenty years of protection, meaning that any time someone tries to steal your invention, you can drag their sorry behind into court. But then, when that twenty years is up, no more protection. Anyone can do anything they want with your invention. That's why there's always a gap between when a prescription drug comes out and when the generic version becomes available. It's a trade off: guaranteed protection for a certain length of time, but you have to make the information public, which means it's free for use when your time is up.
But if twenty years doesn't seem like long enough, and you don't like the idea of making the information behind your unique invention public, you go the Willy Wonka hire-a-bunch-of-oompa-loompas-and-feed-them-nothing-but-chocolate-so-they-never-leave-the-factory-and-no-one-can-steal-your-secrets route. Otherwise known as the trade secret. If you look up how to make Thomas' English Muffin nooks and crannies or the exact blend of spices in Old Bay on the US Patent and Trademark Office website, you won't find them. Those companies don't want anyone to be able to reproduce their special products. Ever. They don't have to worry about people making legal generics and knock-offs in twenty years. But they do not get government protection. This makes them vulnerable. This is how Slugworth could steal the secrets of Wonka's candy and reproduce it without fear of reprisal. How do you choose which to do? It's six of one, half dozen of the other. Guaranteed protection for a limited time or keep it proprietary and risk theft of your idea.
Now, admittedly, Willy Wonka lived in England (or quite possibly Wales, as Roald Dahl was Welsh), and the patent laws are different there. But that's beside the point. And the point is...well, there wasn't really one. Other than these are the kinds of connections my brain makes, whether I really want it to or not. Isn't it amazing the things that children's books can teach us? Well, that's it for today's educational segment.
(Editorial note: I have been informed by my mother, who knows much more about patents than I do, that you can technically sue someone over a trade secret. The tricky part is keeping the trade secret secret during the trial. All in all, if you're going that route, it's best to stick with the oompa loompas, if you ask me.)
Live long and prosper!